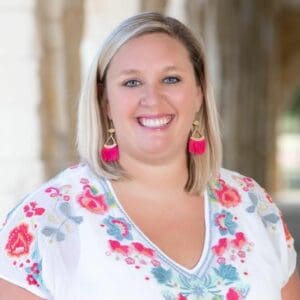 Amber is a Texas native raised in the panhandle who quickly fell in love with the piney woods and kindness of East Texas after moving to the area during college. She is a graduate of UT Tyler with a degree in Speech Communication.
After over 15 years of working with children and serving the Lord through camp ministry and education, Amber felt called to make a change in career to the mortgage industry. She returned to Tyler in 2021 with her family because they believe East Texas is the best place for their family. She is thrilled that God brought her back home to East Texas, but even more ecstatic to have joined the best mortgage team in town, Legacy Mortgage Group.
Amber is passionate about helping people, and she understands that your home's mortgage may be one of the most important areas that she can help your family. She knows that providing a safe and comfortable home for your family is one of your top priorities. Amber is committed to partnering with you to find the most affordable mortgage that meets your needs.
Amber and her husband, Jay, have one daughter, Annemarie, who is spunky, fun-loving, and their greatest earthly joy. Together they attend Grace Community Church. Amber loves spending quality time with family and friends, making new friends, cooking, golfing, traveling, and being outdoors, especially on the water.
Get In Touch.
Phone: (806) 282-2074
[email protected]
NMLS #2232909